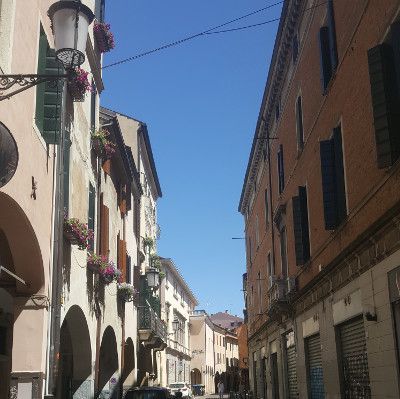 Urban environment: an external plain spring ambient recorded in the afternoon 4 months ago in 119, Via Cesare Battisti, Stanga, Padova, PD, Veneto, 35121, Italia. It was Saturday. The sky was clear with light wind. Technological contamination. Human presence.

Ho registrato questo audio in via Cesare Battisti a Padova. Nell'audio è possibile ascoltare i passanti che percorrano la via e parlano, le biciclette che transitano e il tram che passa in sottofondo

Technological contamination: biciclette, bicycles, tram. Human presence: people walking, people talking, people passing and talking.
---
Recorded with:

Microphones used:

Recording setup:
MONO - 44100 Hz - 16 Bit
preview:
MP3 96bps 44100hZ MONO - gain: no - compressor: no - limiter: no


---
| # | Image | Title | Marked as | Hz | Bit | Audio recording setup: | Sound | Distance (Km) | |
| --- | --- | --- | --- | --- | --- | --- | --- | --- | --- |
| # | Image | Title | Marked as | Hz | Bit | Audio recording setup: | Sound | Distance (Km) | |
| --- | --- | --- | --- | --- | --- | --- | --- | --- | --- |