Gregge al pascolo
Project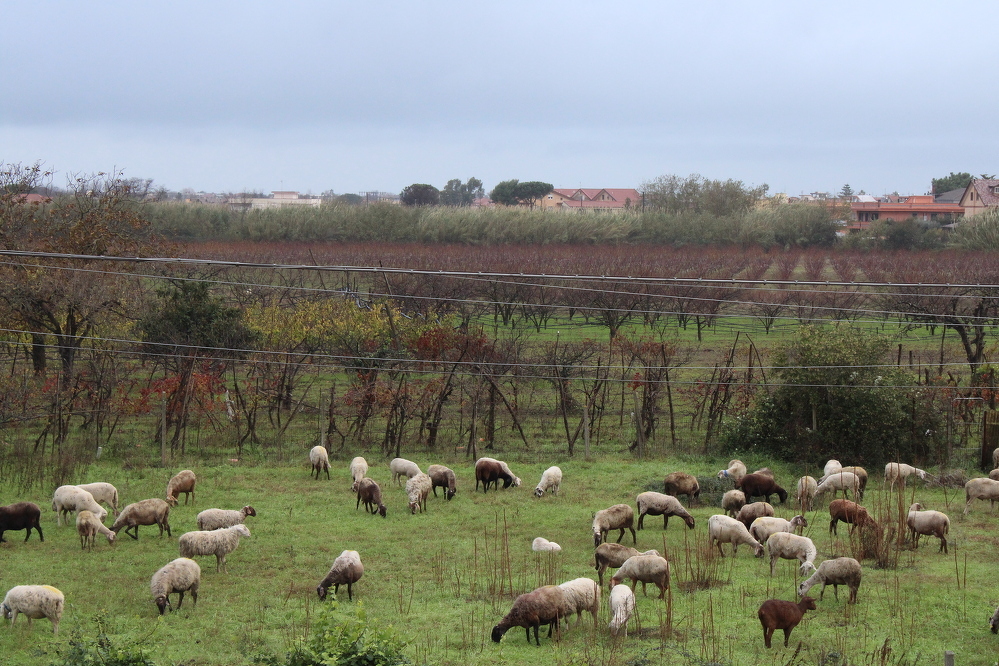 Suburb environment: an external plain autumn soundscape recorded in the afternoon 2 years ago in Giugliano in Campania, Campania, Italia. It was Wednesday. The sky was very cloudy with strong wind and rain. Human presence. Animal presence.

Un gregge di pecore pascola nel campo d'erba difronte casa. Lo osservo da sotto il porticato del mio terrazzo esposto alla pioggia. Le pecore appaiono così vicine che ad alcune è possibile scorgere i difetti della tosatura.

É la prima volta che li vedo pascolare qui. In genere il pastore percorre la strada di Vicinale Torre degli Incurabili in tutta la sua lunghezza, sino ad immettersi su Via Madonna del Pantano. Si tratta di strade provinciali ad intenso traffico, su cui è buffo vedere stagliarsi l'immagine di un colmo gregge al pascolo, con cani annessi. Vedo il pastore ripararsi sotto il tetto arrugginito di un capanno vicino, e mi si chiarisce il motivo della deviazione.


Il lontano strascinio di una sedia mi ricorda che da poco si è concluso il pranzo. Poco distante, un'altra sedia batte sul pavimento del terrazzo.

Quando cane e pastore richiamano a loro il gregge, è un crescendo di vento, pioggia e scampanellii.

Ora tocca agli aironi pranzare, che subentrano nel campo con un piumaggio bianco che ricorda la lana delle pecore. Il loro banchettare somiglia ad un continuum silenzioso della scena precedente.

La musica di un pettirosso si sostituisce allo scampanellio, ma l'intensificarsi della pioggia rende anche il porticato inagibile. É ora di rincasare.

Human presence: sedie che vengono spostate. Animal presence: pecore. cani, uccellini, pettirosso.
---
Recorded with:
zoom handy recorder h1n
Microphones used:
integrato
Recording setup:
STEREO - 48000 Hz - 32 Bit
Url: M4A
---
| # | Image | Title | Marked as | Hz | Bit | Audio recording setup: | Sound | Distance (Km) | |
| --- | --- | --- | --- | --- | --- | --- | --- | --- | --- |
| # | Image | Title | Marked as | Hz | Bit | Audio recording setup: | Sound | Distance (Km) | |
| --- | --- | --- | --- | --- | --- | --- | --- | --- | --- |