Giardini di Palazzo Reale
Project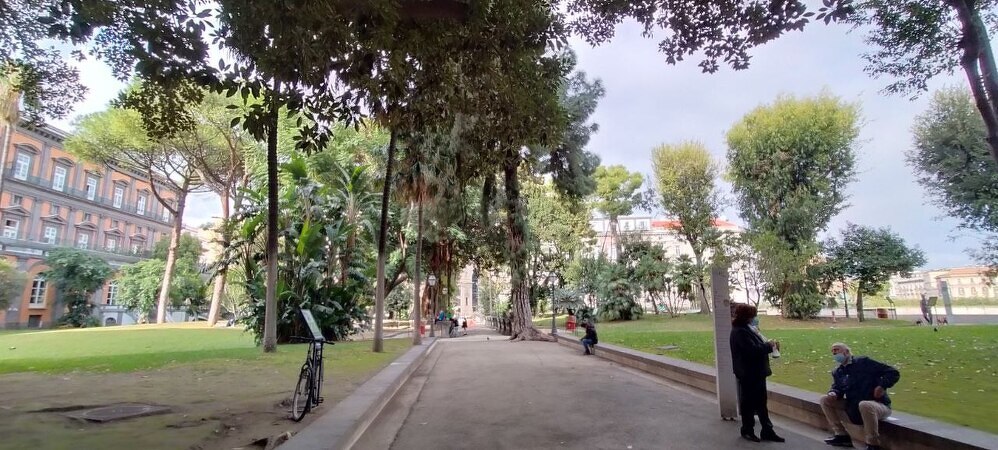 Urban environment: an external plain autumn soundscape recorded in the afternoon 2 years ago in Napoli, Campania, 80133, Italia. It was Thursday. The sky was cloudy with breeze. Technological contamination. Human presence. Animal presence.

Nonostante la tranquillità e il verde che circondano i giardini di Palazzo Reale, la caoticità delle adiacenti strade di Napoli si fa sentire prorompente, andando spesso a coprire i versi degli uccelli e dei gabbiani, l'abbaiare dei cani e i giochi dei bambini.

Technological contamination: clacson, moto, automobili, camion, sirena ambulanza. Human presence: persone che parlano, bambini che parlano. Animal presence: cani, uccellini, gabbiani.
---
Recorded with:

Microphones used:

Recording setup:
STEREO - 48000 Hz - 16 Bit
Url: M4A
---
| # | Image | Title | Marked as | Hz | Bit | Audio recording setup: | Sound | Distance (Km) | |
| --- | --- | --- | --- | --- | --- | --- | --- | --- | --- |
| # | Image | Title | Marked as | Hz | Bit | Audio recording setup: | Sound | Distance (Km) | |
| --- | --- | --- | --- | --- | --- | --- | --- | --- | --- |