Oratorio San Michele-interno cappella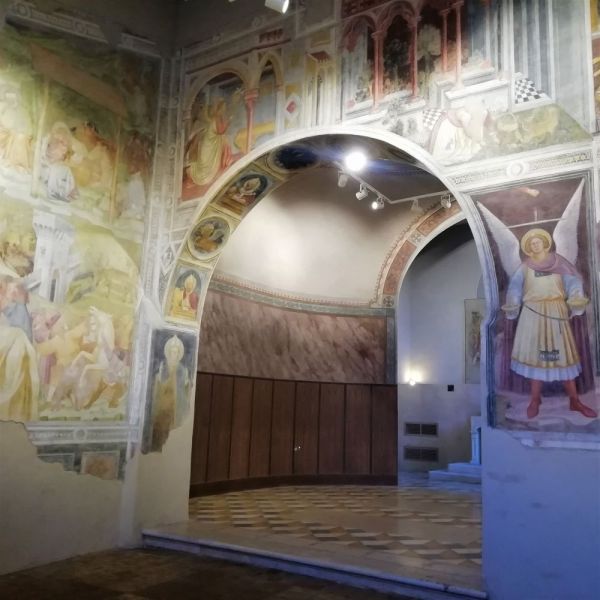 Irrelevant environment: an internal plain spring ambient recorded in the morning 3 months ago in Castello Carrarese, Riviera Tiso da Camposampiero, San Giuseppe, Padova, PD, Veneto, 35122, Italia. It was Saturday. The sky was clear. Human presence.

L'oratorio San Michele è ciò che rimane di un complesso più articolato, la chiesa dei Santi Arcangeli. All'interno è completamente affrescata dal pittore Jacopo da Verona, e tutti gli affreschi risalgono alla fine del 300. Vengono rappresentate scene tratte dal vangelo, come la morte della vergine, la pentecoste, e San Michele che pesa le anime.

#oratorio #jacopodaverona #cappella #1390

Human presence: turisti tedeschi.
---
Recorded with:

Microphones used:

Recording setup:
MONO - 48000 Hz - 16 Bit
preview:
MP3 96bps 44100hZ MONO - gain: 1dB - compressor: no - limiter: no


---
| # | Image | Title | Marked as | Hz | Bit | Audio recording setup: | Sound | Distance (Km) | |
| --- | --- | --- | --- | --- | --- | --- | --- | --- | --- |
| # | Image | Title | Marked as | Hz | Bit | Audio recording setup: | Sound | Distance (Km) | |
| --- | --- | --- | --- | --- | --- | --- | --- | --- | --- |