Night soundscape from Crespino ( Polesine ) with boys talking under the arcades and frogs in the air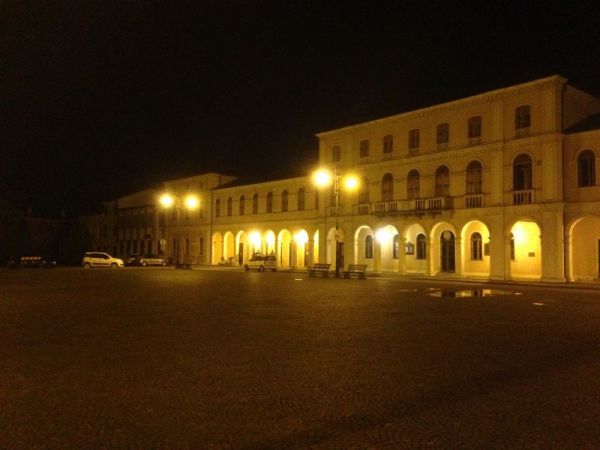 Countryside environment: an external plain spring ambient recorded in the night 4 months ago in Piazza Fetonte, Crespino, Rovigo, Veneto, Italia. It was Thursday. The sky was clear. Technological contamination. Human presence. Animal presence. Insect presence.

Soundscape from the square of Crespino (Rovigo - Polesine area ) by night with countryside sounds in the air. Recoded in 5.0 - NO FILTER - NOT EDITED

In this soundscape you can feel the quite town and the countryside environment. Boys talking under the arcades and frogs in the air.

Technological contamination: car passing, bells. Human presence: few people passing, few people talking, boys and girls talking. Animal presence: dogs, frogs in the air, night birds. Insect presence: crickets in the air. Others environment contaminations: .
---
This sound is a free demo. Register to download.
Recorded with:
CANTAR 00388 v 2.36
Microphones used:
Sennheiser MKH-416,T-bone Stereo cardioid,T-bone Stereo omni
Recording setup:
5-0 - 48000 Hz - 24 Bit
preview:
MP3 96bps 44100hZ STEREO - gain: 10dB - compressor: no - limiter: no


You have to Log In to download this soundscape
---
| # | Image | Title | Marked as | Hz | Bit | Audio recording setup: | Sound | Distance (Km) | |
| --- | --- | --- | --- | --- | --- | --- | --- | --- | --- |
| # | Image | Title | Marked as | Hz | Bit | Audio recording setup: | Sound | Distance (Km) | |
| --- | --- | --- | --- | --- | --- | --- | --- | --- | --- |