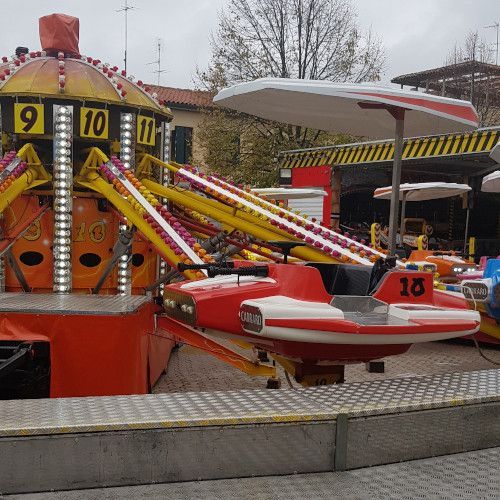 Urban environment: an external plain autumn ambient recorded in the sunset 1 month ago in Piazzale Serenissima, Via Michiel, Quartiere Sant'Anna, Piove di Sacco, Padova, Veneto, 35028, Italia. It was Sunday. The sky was very cloudy with light wind. Technological contamination. Human presence. Animal presence. Insect presence.

All' interno del suono c'è la presenza costante (in tutta la sua durata) della musica registata della giostra. Si possono notare anche altri effetti acustici come ad esempio al momento 00.10= il suono dei finti spari che i singoli aerei si sparano uno contro l'altro; 00.50= la voce al microfono del proprietario della giostra





Technological contamination: si. Human presence: si. Animal presence: no. Insect presence: no. Others environment contaminations: .
---
Recorded with:
Smartphone
Microphones used:
Microfono interno al registratore
Recording setup:
MONO - 44100 Hz - 16 Bit Giulia Durello
preview:
MP3 96bps 44100hZ MONO - gain: no - compressor: no - limiter: no


---
| # | Image | Title | Marked as | Hz | Bit | Audio recording setup: | Sound | Distance (Km) | |
| --- | --- | --- | --- | --- | --- | --- | --- | --- | --- |
| # | Image | Title | Marked as | Hz | Bit | Audio recording setup: | Sound | Distance (Km) | |
| --- | --- | --- | --- | --- | --- | --- | --- | --- | --- |